Photo (c) Walter Winkler, Procession of the Naked (I) 2014
Auf dem Ringplatz in der Altstadt von Biel. Langsames Gehen während des Glockenläutens der nahen Stadtkirche von 18h bis 18.10h, am Samstag 22. August. Ein partizipatives Projekt von Thomas Zollinger mit Personen.
On Ring Square, slow walking while bells were ringing from 18h until 18.10h, on Saturday 22 August. A participative project of Thomas Zollinger with about 20 people.
Videostills Procession of the Naked (II) 2015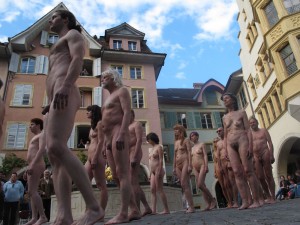 Photo (c) Walter Winkler, Procession of the Naked (I) 2014