Photo (c) Özgur Cagdas, Body and Freedom Festival 2015
Till Alexander Lang (* 1989), befasste sich in seiner Masterarbeit an der HKB Bern mit der Zusammenführung seiner drei Leidenschaften: Tanz, Schauspiel und Bildende Kunst. Hierbei entstand seine persönliche Tanzperformance "3,141…", die Elemente des Butoh-Tanzes aufnimmt. Die Zeit soll so aufgehoben werden, dass die Performance betrachtet werden kann wie ein Tag, wie ein ganzes Leben, wie eine Minute oder wie die Evolution vom Einzeller zum Mensch. Die abstrakte Zahl Pi gab ihm dazu einen theoretischen Bezug. Am Festival Body and Freedom ist Till Alexander Lang tagsüber mit 15minütigen Auftritten in der Fussgängerzone präsent. Am Samstagabend zeigt er in der Voirie sein Master-Projekt.
Dans son travail pour obtenir le Master à l'Ecole d'Arts de Berne, Till Alexander Lang (* 1989) traite le lien commun à ses trois passions : la danse, le théâtre et l'art créatif. A cette occasion est née sa propre performance de danse "3,141…", qui reprend des éléments de la danse butô. Le temps est suspendu, de manière à considérer la performance comme si elle était un jour, une vie entière, ou une minute de l'évolution d'une unité cellulaire vers l'être humain. Le chiffre abstrait Pi lui donna une référence théorique. Au festival Body and Freedom, Till Alexander Lang est présent au cours de la journée dans la zone piétonne avec des performances de 15 minutes. Samedi soir, il présente son projet de Master à la Voirie.
During work on his Masters Degree at the University of The Arts (H:K:B:), Till Alexander Lang (*1989) focused on bringing together his three passions for dance, theatre and fine arts. These efforts culminated in his personal dance performance "3,141" which absorbed certain elements of Butoh dance. " Time should be dissolved thus enabling the performance to be seen as a "day" or a whole lifespan within one moment;  Or as the evolution of a single cell organism to become a human being. The abstract no: "Pi" lends support to this theoretical basis. In Freedom and Body Festival he will be performing throughout the day in 15 minute sequences in the pedestrian zone and on Sat. evening he will show his Masters project in the Voirie gallery.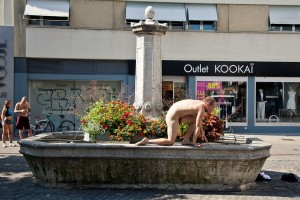 Photos 1-4 (c) Regina Jäger, 5 (c) Roshan Adhihetty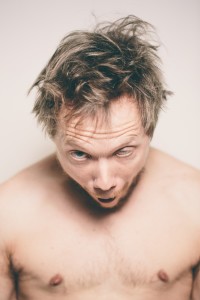 Photo (c) Alexey Testov