Photo (c) Roshan Adhihetty, Body and Freedom Festival 2015
Abraham Hurtado (*1972) erforscht in seinem Werk die Bedeutungen von Präsenz und Raum, die Vielfältigkeit von Kontexten und möglichen Publikumsanordnungen. In den vergangenen Jahren beschäftigte er sich in seinen Projekten konstant mit Fragen wie: Wie kann der Körper über die Grenzen der Gedanken hinausgehen? Bis zu welcher Ausdehnung lassen sich mentale Zustände durch körperliche Präsenz zeigen? Am Body and Freedom Festival präsentiert Abraham Hurtado mit Andrés Agudelo und Maureen López das installative Werk "Welcome to Europe – site specific Switzerland 2015". Es verweist auf den mentalen Zustand europäischer Menschen, der von Überstimulation beeinflusst ist.
Dans son œuvre, Abraham Hurtado (*1972) explore la signification de la présence et de l'espace, la diversité des contextes et les arrangements du public. Au cours des dernières années, il s'est engagé dans de nombreux projets, constamment occupé par la question suivante: comment le corps peut-il dépasser les limites de la pensée? Jusqu'où peut-on exprimer des états psychiques par une présence corporelle ? Au Festival Body and Freedom, Abraham Hurtado, en compagnie d'Andrés Agudelo et de Maureen López, présente l'installation "Welcome to Europe – site specific Switzerland 2015". Elle renvoie à l'état psychique actuel des Européens qui sont influencés par une sur-stimulation.
Abraham Hurtado (*1972) explores in his own work the notions of presence and space, the multiplicity of contexts and possible arrangements of the public. In recent years he has been involved in various projects in which he has constantly asked himself questions like: How can the body overcome the boundaries of thought? To what extent can we represent mental states through bodily performance? In the Body and Freedom Festival Abraham Hurtado, accompanied by performers Andrés Agudelo and Maureen López, will present the "Welcome to Europe" as site-specific Switzerland 2015. In an age of consumer culture and over-stimulation, what has become of our reality? Which actions, mental states, emotions and symptoms does it produce? Welcome to Europe is focusing on the mental state of European people; a state that has been influenced by over-stimulation. What did we lose as Europeans? is the main question. Our attention is called to the emotional state that causes our reality as Europeans. The body and emotion have become consumer's products: statements and actions that are irreversible, disposable.
Photos 1-5 (c) Regina Jäger, 6-9 (c) Roshan Adhihetty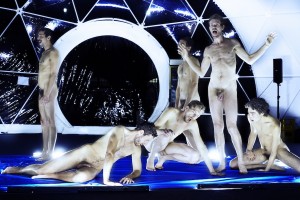 Photo (c) Anders Bigum, Welcome to Europe, Men Group