Photo © reto-cortesi.com, Body and Freedom Festival 2018
Marina Barsy Janer (*1988, Puerto Rico) Isil Sol Vil (*1982, Catalunya) are artists, curators, researchers and pedagogues of performance art. Directors of EMPREMTA international festival of performance and organisers of the cultural centre MATERIC.ORG. They begin their joint work in 2015 following a philosophy of Subversive Lo0ve and eXtreme Care. They have presented their work in galleries, museums, universities, symposia, festivals and urban spaces in Catalonia, Spain, Cyprus, United Kingdom, Germany, Greece, Canada, Mexico, Dominican Republic, Puerto Rico, Colombia, Peru, Chile and Argentina. They take mimesis to the eXtreme by exploring alternative sensitivities that challenge the historical chronologies imposed while suppressing the male/ female dichotomy. Their point of union, as vanishing point, is a constant pulsation where the plural presence of the body, the border destruction and the decolonisation of the mind-body is an act of rebellion and subversion.
Title: ALTERIDAD FLEXIBLE (flexible alterity)
To stretch oneself, one's energy, into the public space.
To expand the presence.
To encounter an other's presence.
To combine and become a mutual essence.
Intimacy within the sphere of the public.
To take love into the streets, making the flow of the passer-by your home.
To empower our nude bodies: our fe/male bodies.
To ignite a path of reflections.
To caress these reflections,
weight them,
project them
unto you,
onto our shared surroundings.
Only then, only now… to let go.
Observe how
all of our reflections
become one
in the reflection
of the water's energy.
To re-build
a communal
home.
Photos 1-4, 7/8, 11- 18 © reto-cortesi.com, 5/6 und 9/10 © Roland Goertler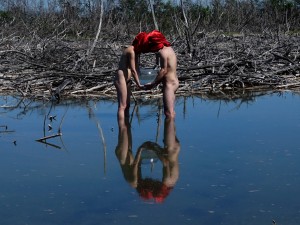 Photo credits: NATURALEZA VIVA. Marina Barsy Janer x Isil Sol Vil. Photography in colaboration
with Aravind Adyanthaya (Puerto Rico, 2017).