Photo © reto-cortesi.com, Body and Freedom Festival 2018
Fabienne Gallina Baron (*1975) lebt und arbeitet zwischen Sizilien und der Schweiz. Sie hat Theaterwissenschaften, Germanistik, Komparatistik und Genderstudies studiert und sich in den visuellen Künsten mit etlichen Kursen an Kunsthochschulen, Institutionen etc. weitergebildet. Heute ist sie Filmemacherin und Performance-Künstlerin. Ihre 2013 begonnenen performativen Arbeiten sind audiovisuell und installatorisch umgesetzt und bedienen sich der Technik der japanischen Fesselkunst. Beispiele sind "Lucky Conditions in Presence" mit einer Gruppe im Luzerner Theater und zuletzt "Il Risveglio", einer Self-Suspension an einem Festival in Sizilien. Der Fokus liegt in der Inszenierung von Körpern und Energien im Raum. Dabei interessiert sie sich für deren Dissonanzen und Harmonien, der Aufspaltung dem Körper zugeteilten Mustern und Erwartungen. Fabienne ist zudem der sexpositiven Aufklärungsarbeit und des WomenEmpowerment zugetan. Maria Regula Merz (*1944) betätigte sich neben ihrer Berufsarbeit als Musikerin und machte bewegungsorientierte Weiterbildungen. Noch heute ist sie als Cellistin in Orchestern und in verschiedenen Bewegungs- und Nacktprojekten mit dabei, zuletzt in der Gruppenperformance "Nudeland" (2017). Fabienne Gallina Baron und Maria Regula Merz präsentieren am Body and Freedom Festival eine altersübergreifende Zusammenarbeit.
Fabienne Gallina Baron (*1975) lives, works and travels between Sicily and Switzerland. She studied theatre, comparative and German literature in Zurich, Berne and Berlin and continued studying visual arts at different institutions around the world. Today she`s working als a filmmaker and performance artist. Her first performative works in 2013 are audiovisual installations realized while operating japanese rope art (shibari). "Lucky Conditions in Presence" is her last work she performed with her group falbala ropes performance crew at "Luzerner Theater". Her current works are self-suspension performances, which she is showing at the moment all around Sicily. Her focus is to stage bodies and energies in space. Therefore she is interested in harmony and disharmony, in breaking (queering) patterns and expectations allocated to bodies. Furthermore Fabienne Gallina Baron is engaged in sexpositve educational work and women empowerment. Maria Regula Merz (*1944) was besides her professional work a musician and completed further training in movement. She took part in some naked projects, latest in "Nudeland" (2017) and continued as cellist in an orchestra and as supernumerary in theatres. Fabienne Gallina Baron and Maria Regula Merz present at the Body and Freedom Festival an age comprehensive cooperation.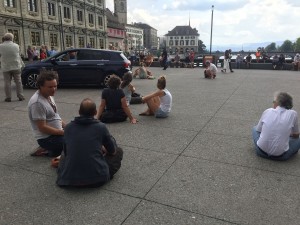 Photos © 1-13 reto-cortesi.com, 14 © Beatrice Schumacher