Photo © reto-cortesi.com, Body and Freedom Festival 2018
Kamil Guentari (*1984 Algerien) lebt und arbeitet in Frankreich. Er studierte Ingenieurtechnik, und begann sich ab 2009 mit Poetik und Performance Art an der Universität von Toulouse zu beschäftigen. Seit 2010 präsentiert er seine Performances und multimedialen Arbeiten in Frankreich, sowie im Rahmen internationaler Festivals in Berlin, wie auch in Spanien, England, Tschechien, Polen, Kolumbien und den USA. Guenatri zu seinen Arbeiten: "In meinen Performances beschäftige ich mich vor allem mit dem Kontext meiner körperlichen Behinderung. Dabei werfe ich die Frage auf, wie trotz meiner täglichen Grenzen, Performance Art möglich ist. Mit Hilfe meiner Assistenten befrage ich Themen wie Unbeweglichkeit und Bewegung, Eingezwängtsein und Freiheit, Unmöglichkeit und Initiation. In solchen Aktionen lässt sich eine ungewohnte Art von Schönheit erkennen." Für das 'Body and Freedom Festival' erforscht Kamil Guenatri mit "A Walk On My Bones", Transformationen zwischen dem materiellem und immateriellem Körper. Dabei arbeitet er mit den künstlerischen Mitteln der Zeit, mit minimaler Poesie und bildhaften Situationen. Somit verschiebt sich die Darstellungsweise von Körper und damit auch die Wahrnehmung des Körper hin zur Skulptur, zur Fotografie, zum Bild.
Kamil Guenatri (*1984 Algeria) lives and work in France. He studied engineering systems before joining Mirail University studio of poetry and performance art in 2009. Since 2010 he presents several performances, multimedia exhibitions, including The Regional Contemporary Art Fund – Les Abattoirs in Toulouse, the International Month of Performance Art in Berlin and other international festivals in Spain, England, Czech Republic, Poland, Luxembourg, Colombia and USA. "My practice focuses mainly on sickness, in relation with my physical disability. Using performance, I raise the question : How can I perform despite being limited in every daily life gesture? With help by my life assistants, I play with the limits between immobility and movement, constraint and freedom, impossible and initiation. These actions highlight beauty in difference(…)" At the Body and Freedom festival, the artist explores with "A walk on my bones" transformations between material and immaterial body. Using duration, minimal poetic and visual situations, the body is altered towards representations similar to pictorial elements such as sculpture and photography.
oben 22/08 SALON Opening Barockzimmer, Photos 1-3 © Horst Jerina, 4 © Roland Goertler
unten 23/08 Rathausbrücke, Photos 1-8, 10-13, 15 © reto-cortesi.com, 9, 14 © Roland Goertler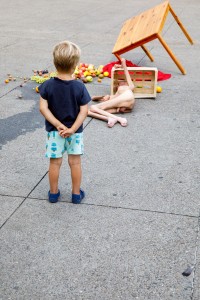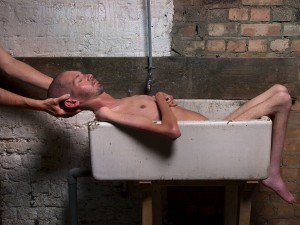 Photography and performance collaboration with Manuel Vason, "A walk on my bones" at DARC studio, London 2016