Photo © reto-cortesi.com, Body and Freedom Festival 2018
Manuel Vason (*1974) befragt als visueller Aktivist die Rolle des professionellen Photographen in unserer bildergesteuerten Gesellschaft. Als "Photoperformer" erforscht er in verschiedenen Aktionen den Zusammenhang zwischen Fotografie und Performance, und kreiert dadurch eine hybride Kunstform sowie einen fruchtbaren Raum für kreativ-kritische Reflexion. Während der letzten 18 Jahre kollaborierte er in einem "Art Exchange" benannten Langzeitprojekt mit mehr als 250 international tätigen Performancekünstler/innen, mit dem Ziel, signifikante Aktionen und Bilder zu schaffen, um die Lebendigkeit des photografischen Aktes zum Ausdruck zu bringen. Manuel Vason veröffentlichte sechs Publikationen und beteiligt sich an internationalen Ausstellungen. Am Body and Freedom Festival wird er als "Photoperformer" eine neue Arbeit mit dem Titel "A Ritual of Reflection" zeigen, im Kontext einer körperorientierten Performance.
Manuel Vason (*1974) is a visual activist interested to question the role of the 'professional' photographer in our image-driven contemporary society. By exploring the correspondence between the art of photographing and the art of performing, Vason is shaping a hybrid art form and a fertile space of critique and creative expansion. During the last eighteen years he has collaborated with more than 250 international performance artists and created, in the spirit of exchange, distinctive photographic actions/images thus expressing the liveness of the photographic act. Manuel Vason produced six publications and exhibited internationally. He is currently completing a PhD by Publication at the University of Creative Art in Farnham (UK). In the Body and Freedom Festival he will contribute as "PhotoPerformer" a new work called "Ritual of Reflection", in a context of body-oriented performance.
Photos 1-7, 9, © 12 reto-cortesi.com
Photos 8 © Rainer_DO 10,11 © Beatrice Schumacher, 13 © Roland Goertler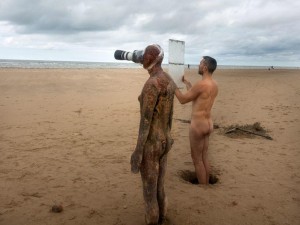 Photo Rubiane Maia, The PhotoPerformer is using photography to trace a map so to get lost, Newcastle 2016