Photo © reto-cortesi.com, Body and Freedom Festival 2018
Mischa Badasyan ist in Rostow am Don, Russland geboren. Sein Studium im Fach Politikwissenschaft hat er an der Rostower Staatlicher Universität begonnen und seitdem engagierte er sich für soziale-, menschenrechts-, LGBT-, und Umweltprojekte. Diese Arbeit hatte einen großen Einfluß auf ihn und seine künstlerische Tätigkeit. 2008 wanderte er nach Deutschland aus und studierte in Dresden Bachelor Soziale Arbeit und setzte sein Engagement in sozialen-, AIDS- und LGBT-Projekten fort. Im Oktober 2011 begann er, inspiriert durch seine Arbeit an der Dresdner Kunstakademie als Aktmodell, eigene Performances zu konzipieren und durchzuführen. Er ist ganz stark davon überzeugt, dass Kunst nur durch unsere Erfahrungen im Leben existiert. Man braucht keine physischen Objekte, um kreativ zu sein. Der Körper kann zu einem Kunstwerk werden. Kunst muss nicht materiell sein, genauso wie du und ich. Es ist ein globales Gefühl von der Liebe zur Erde und zur Menschheit. Im September 2013 Mischa Badasyan zog nach Berlin um. Dort begann er mit seinen Langzeit-Projekten, die Monate oder ein Jahr dauerten. Am Body and Freedom Festival präsentiert er eine Performance mit dem Titel BLOW – BLEW – BLOWN, die sich mit dem Thema Intimität in öffentlichen Räumen auseinandersetzt. Im Abendprogramm präsentiert er ausserdem seine Arbeit TOUCH.
Mischa Badasyan was born in Rostov on Don, Russia.  He studied Political Science at Rostov´s South University and have been working in social, human rights, LGBT and environmental protecting organizations since an early age. It has made a huge impact on him and his artwork. In 2008, he moved to Germany and eventually began studying social work in Dresden while staying active in social/AIDS/LGBT organizations.  In October 2011, he started just coincidental his career as a performance artist after working as a nude model at the art academy in Dresden. He strongly believes that the art exists only through our life experiences. There is no need to use physical objects to create; you become the artwork yourself. The art should be immaterial like you; feelings of deep love of the World, the Earth and of Humanity. In September 2013, he moved to Berlin which was the next stop in his artistic career where he started doing long duration performance lasted days, months and years. In the Body and Freedom Festival, he will present a work called BLOW – BLEW  – BLOWN which depict the topic of intimacy in the public space. In the evening program, he will give a talk with the title TOUCH.
oben BLOW BLEW BLOWN, Photos © reto-cortesi.com
unten BALLY, Photo 1 © Lorenzo Borghi, Photos 2-9 © reto-cortesi.com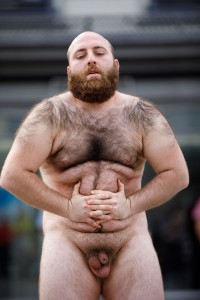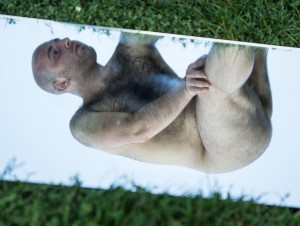 Photo © Andrea Linss